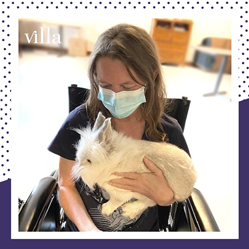 "The animals make a huge difference," said Beth Sharpe, Director of Life Enrichment. "You can see the positive benefit that animal interaction has on the residents' moods."
GOLDEN VALLEY, Minn. (PRWEB) October 13, 2021
To promote the wellbeing of its residents, Brookview, a Villa Center, recently hosted a petting zoo event that provided opportunities for residents to hold and feed a variety of animals. Animal interaction may offer both emotional and physiological benefits to older adults in long-term care residences.
According to a study of animal-assisted activity among older adults in the journal Geriatric Nursing, animal interaction can reduce anxiety and loneliness in older adults. As little as 12 minutes of animal interaction may also improve lung and heart health by lowering blood pressure and reducing the release of epinephrine, which increases heart rate and can cause anxiety, according to a study by A. Gawlinski and N. Steers at UCLA Health.
"The animals make a huge difference," said Beth Sharpe, Director of Life Enrichment. "You can see the positive benefit that animal interaction has on the residents' moods."
Their new four-legged (and no-legged) friends came in many shapes and sizes, including turtles, a snake, a hedgehog, a chinchilla, lizards, and a rabbit. Beth shared that even residents who normally don't participate in activities get excited when animals come to visit their center.
Sharpe observes, "Whenever we host an interactive event with animals, the residents immediately want to know when the animals will be back!"
We're Villa, and we make people better. Of course, we're focused on quality care and good outcomes. But we're here to do so much more. Villa's leadership has a vision of rising above the status quo—of never settling and of shattering the old image of this industry. We've always wanted to be a part of something greater, and we're making that a reality. Our commitment to our people, our environment, and our clinical programs will allow us to fulfill our mission of making people better. For more information, please visit http://www.VillaHC.com.
####
Share article on social media or email:
This is a syndicated feed. Mental Health Post is not responsible for any claims made in this story.